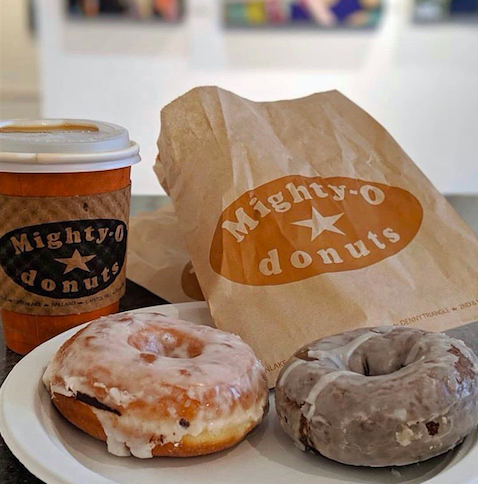 Starbucks recently announced ambitious plans to cut its waste, water use and carbon emissions in half during the next decade.
That's great news! But a Seattle coffee place that cares about sustainability? That's old news. Just ask our client Mighty-O Donuts.
Ever since they sold their first donuts at the U-District Street Fair way back in 2000, Mighty-O has been mindful of the environment and their impact. Twenty years ago, selling an organic and dairy-free product wasn't as popular as it is now but Mighty-O has grown to be a staple for those with a sweet tooth and care for the environment and has five Seattle shops. Their delicious donuts are made with no chemicals, no genetically modified organisms and no animal products. But better ingredients are just the start. Mighty-O is committed to using sustainable products and creating zero waste by composting and recycling. No donuts are thrown away: instead they donate what they don't sell to nonprofit organizations and compost all food waste.
The good news is that a global corporation and local business are both showing that you can be successful when you put sustainability first. More and more, consumers are making their decisions based on these kinds of environmental factors and are expecting—and demanding—more from the brands they choose to support.